Fax:+86 371-67992755
Tel: +86 371-67991755
Sales direct: +86 15838331071
E-mail:sales@battemachinery.com
https://www.thermoplastextrusionpump.com
24h services
PET sheet die
batte melt pump Company Products Nano-balloon reflective layer is a new environmentally friendly thermal insulation material, the material is soft, light and easy to install. The material structure of aluminum foil and polyethylene, the special mechanical processing, the pipeline it has a good thermal insulation, moisture, corrosion, energy saving effect, but also through the characteristics of the material developed a series of products are also widely used in housing Building applications on the roof, walls, floors, floor heating, automotive and other industries have the same effect. The product can also be based on the original aluminum foil and polyethylene with a layer of PE woven fabric, which does not change the performance of the original product greatly enhance its tensile strength, tear strength.
PET sheet die, extrusion sheet die, flat die production of PET (APET film, CPEP, PETG) film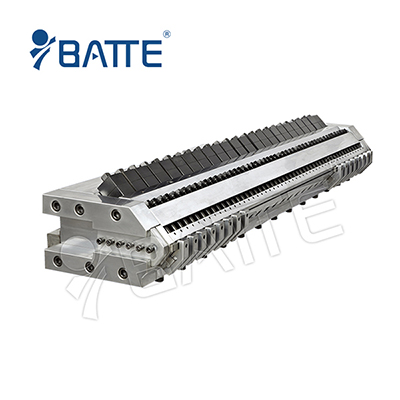 PET sheet die features:
Project Name PET sheet extrusion die
Tool material pre-hardened plastic mold, gross enrollment rate 1.2718, 50CRMO heating needs treatment for u
Die width up to 2.2 meters
Product width 500 - 2000mm
Product thickness of 0.14 - 1.5mm
Stainless steel heating heating rod
Runner hanger type (T-die)
Hard chrome plated surface 0.03-0.05 mm of all flow
0.02mm for all customer requirements
Voltage 220V
The power of each district 3.5kw
Suitable for plastic material polyester (APET film, PETG, increasing exercise load)
One year after the sales service
Auxiliary equipment screen changer, metering pump, hydraulic station
Mold time 32 days
Squeeze evenly, mirror-finished mold cavity

Relative Articles:
◆Blister temperature of PET and PVC sheet di
◆How to put the sheet into the mold cavity i
◆XPS Foam Sheet Die
◆Plastic Sheet Die
◆ PVC Free Foam Sheet Die
◆PVC Sheet Die/T-Die/Flate Die

@2015 Batte Machinery Zhengzhou Co.,Ltd. All rights reserved. 
sales@battemachinery.com
Batte is a professional manufacturer and exporter of
Screen Changer
、
melt pump
and
loss in weight feeder
.