Fax:+86 371-67992755
Tel: +86 371-67991755
Sales direct: +86 15838331071
E-mail:sales@battemachinery.com
https://www.thermoplastextrusionpump.com
24h services
Application of Batte Melt Pump in Extrusion of Wood Plastic P
Wood-plastic profile production line is mainly used for PVC + wood flour, production of kick line, door edge line, door line, hundred leaves, photo frame, frame, door frame, door cover, window cover, stand, stair handrail, decorative buckle board, furniture timber Extrusion of other profiles. The production line adopts original wood-plastic technology and formula, can design different proportions of products according to different profile sections, different uses, choose different specifications of wood-plastic special twin-screw extruder, and special special melt pump for Bart. Traction machine adopts unique Technology, stable work, good reliability, and great traction. Vacuum styling adopts special eddy current cooling system, which is convenient for cooling and shaping to meet the production characteristics of wood-plastic profiles. The sawing device maintains synchronization with the traction speed of the profile. The design is reasonable, the operation is stable, polymer melts pump can be cut to length automatically, and equipped with a dust recovery device.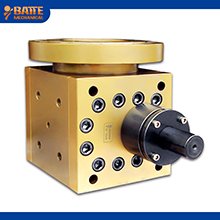 The melt pump is mainly used for conveying, pressurizing, and metering of high-temperature and high-viscosity polymer melts pump. polymer melts pump's main function is to pressurize and regulate the high temperature melt from the extruder, and to maintain the melt flow accurately and steadily into the extruder head. Today, melt gear pumps have been widely used in chemical fiber, granulation, plastic film, sheet, sheet, profiles, pipe, wire and cable, wire drawing, compound extrusion, etc. The processable materials cover almost all the macromolecules Materials, such as: PE, PC, PP, PVC, HIPS, PS, PA, TPUR, fluoropolymer, polysulfone, polyester, thermoplastic elastomer, rubber, and thermal adhesives.

Relative Articles:
◆Warning the Misuse of Gear Pump
◆How to deal with motor overload of melt pum
◆Reasons for Exhausting Phenomenon of Extern
◆Benefits of plastic extrusion pumps
◆High viscosity high pressure gear pump sele
◆Metering accuracy of metering pump

@2015 Batte Machinery Zhengzhou Co.,Ltd. All rights reserved. 
sales@battemachinery.com
Batte is a professional manufacturer and exporter of
Screen Changer
、
melt pump
and
loss in weight feeder
.