Fax:+86 371-67992755
Tel: +86 371-67991755
Sales direct: +86 15838331071
E-mail:sales@battemachinery.com
https://www.thermoplastextrusionpump.com
24h services
continious auto screen changer
Product
continious auto screen changer
Manufacturer
china
Product Details
Rajhans is India's reliable manufacturer and supplier's of continious auto screen changers, for Thermoplastics Extruders
Output - 80 to 1250 kg/hrs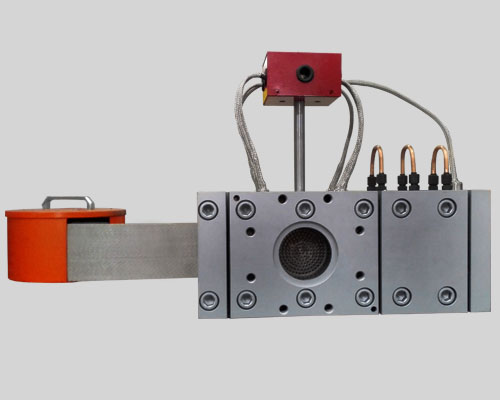 continious auto screen changer Accessories
- Special adapter for die and barrels side as per your specifications.
- Hand trolley and fixed for mounting the screen changer available.
- Accumulator bladder (Nitrogen Cylinder) to be incorporated for super fast movement of plunger, if required.
Application - This type of screen changer usually applied masterbatch plant, polymers plant, texurizing plant, tape or polyester sheet and film plant etc.
continious auto screen changer Features:
- It is absolutely necessary to filter plastic material by way of Screen Changer.
- The impurities will prevent the damage of the die and barrel and increase the life.
- The final product will be consistently good.
- Filter mesh can be changed without stopping the extruder line.
- Without stopping the production of the line i.e. increase the production
- Absolutely eliminated leakage problem.
- Absolutely eliminated idle time.
- Maximum utilization of plant.
- Elimination of material scraps (Due to non stop work of line).
- Automatic venting system also available.
Type

Output

Kg/h

Size (mm)

Screen size

Heating tube

L1

L2

L3

Ф(mm)

cm2

V

W

Relative Articles:
◆automatic loss in weight feeder

@2015 Batte Machinery Zhengzhou Co.,Ltd. All rights reserved. 
sales@battemachinery.com
Batte is a professional manufacturer and exporter of
Screen Changer
、
melt pump
and
loss in weight feeder
.